Plastic Surgeons of Alaska
Alaska Regional Hospital
2741 Debarr Road #215
Anchorage, AK 99508
Phone: (907) 563-2002
Fax: (907) 562-7628
Monday–Friday: 8:30 a.m.–4:30 p.m.

Breast Augmentation
Women from Anchorage and across Alaska seek breast augmentation for a range of highly personal reasons. Breast enhancement with implants can enhance femininity, boost your confidence, and give you the chance to expand your wardrobe. Our plastic surgeons, including Dr. Jana Cole and Dr. Daniel Suver, have years of experience performing cosmetic breast surgery and are known for creating results that look natural.
To schedule an appointment, please call (907) 563-2002 today.
Breast Augmentation Before & After Photos
WARNING:
This feature contains nudity. Please click OK to confirm you are at least 18 years of age and are not offended by such material.
OK
Breast Augmentation Before & After Photos
Keep in mind that each patient is unique and your results may vary.
Keep in mind that each patient is unique and your results may vary.
Is Breast Augmentation Right for You?
Women consider breast augmentation because they:
Want to increase the size of breasts that have always been small
Are self-conscious about uneven breasts
Lost volume in their breasts after having children
A good breast augmentation candidate also has realistic expectations about the results of the surgery and is in good physical health. If your breasts are sagging, you may want to combine a breast lift (mastopexy) with breast implants. A breast lift improves the shape and position of your breasts.
How Is Breast Augmentation Performed?
Our surgeons customize your breast augmentation procedure after listening to you describe your goals during a consultation and a thorough physical examination. They clearly explain your options regarding breast implants, incision locations, and where they'll place the implants.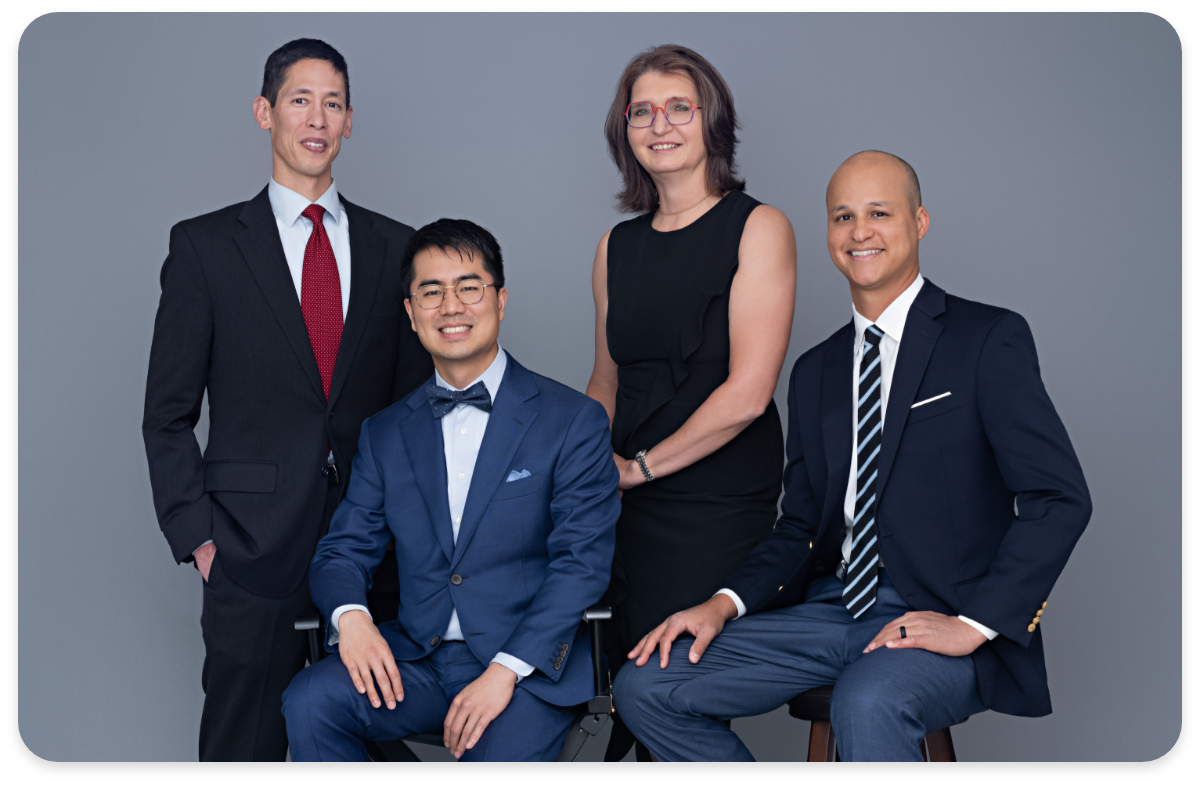 Meet Our Surgeons
Our surgeons are uniquely talented and share a dedication to providing our patients the type of personalized care that has established Plastic Surgeons of Alaska as the premier practice in the state.
Request My Consultation
How Do You Choose Breast Implants?
Choosing implants is exciting but can also be a bit stressful, which is why having an experienced plastic surgeon help you is so important.
Implant Size
Many patients express their goals in terms of an increase in bra size, such as wanting to go from a B cup to a D cup. That's useful, but it's important to remember that bra sizes aren't standardized from one brand to another. Implants are measured in cubic centimeters (cc) and range from about 200 cc to 800 cc.
Just as important as size increase for most patients is the desire for results to look natural. What that means is for your breasts to look proportional to the rest of your body. Remember that another woman with 400 cc implants may look completely different than you would with 400 cc implants.
Type of Implant
Implants are filled with either a salt water solution or cohesive silicone gel. The choice is based on personal preference, but most patients and surgeons believe silicone gel implants look and feel more like natural breasts. About 85% of the implants used in augmentation procedures in the U.S. are filled with cohesive silicone gel.
Within the category of silicone gel implants are different levels of cohesiveness, including some that are often called "gummy bear" implants because the consistency of the gel is similar to the gummy bear candies. Plastic Surgeons of Alaska offers patients round, smooth saline and silicone gel implants.
Where Are Breast Augmentation Incisions Made?
Dr. Cole and Dr. Suver may make incisions in 1 of 3 locations based on their discussions with patients. Each option has unique advantages. The incision options include:
Inframammary
This location is the most common because it's versatile and can accommodate any type or size of implant. Surgeons make a short, horizontal incision at the base of the breast, near where the skin connects to the chest wall. Because saline implants are filled after they're inserted, the incision is slightly shorter than those made for silicone gel implants.
Periareolar
The main benefit of the periareolar incision is that it is potentially less visible. Your surgeon makes an incision just below the lower edge of the areola, the dark skin surrounding the nipple. There is a slightly higher chance of changes in nipple sensation. Additionally, larger silicone implants can't be placed through a periareolar incision.
Transaxillary
This location is in the armpit, which conceals the incision well. Surgeons, however, need to use specialized instruments to create an implant pocket and then place the implant because they don't have a direct view. This is also limited to saline or smaller silicone gel implants.
Dr. Cole is amazing! I had a breast augmentation about a year ago and I couldn't be more happy with the way I look today, my breasts look so natural, they feel great, they look great and I truly appreciated her honesty on what to expect before and after surgery, she never promised miracles and was straight forward.

Yukon 2008, via Google Reviews
What's the Best Implant Placement?
Surgeons can place implants either behind the existing breast tissue but in front of the chest muscle (subglandular placement) or behind the chest muscle and breast tissue (submuscular placement). Most patients choose the submuscular placement because the location helps camouflage the implant, and it tends to behave more like natural breast tissue when a woman lies on her back. A subglandular placement might be appropriate for women with enough existing breast tissue to hide the implant's edges.
Can You Combine Breast Augmentation With Other Procedures?
Breast augmentation is a popular choice to combine with other body contouring procedures such as a tummy tuck and liposuction for women getting mommy makeover surgery. Dr. Cole and Dr. Suver discuss all of your options and whether breast augmentation should be combined with a breast lift during the operation.
How Much Does Breast Augmentation Cost?
The cost of breast augmentation surgery in Anchorage depends on several factors, including the training and experience of the plastic surgeon, the type of implants used, fees charged for a board-certified anesthesiologist and operating rooms, and if you combine other procedures with the operation.
We offer financing designed specifically for elective surgery patients who want to spread out payments for breast augmentation.
Schedule a Consultation
Women in Anchorage and elsewhere in Alaska considering breast augmentation can schedule an appointment by calling us at (907) 563-2002 or request a consultation at our practice using the online form.